FIT FOR SECESSION
21.10.2015 / Secession / Wien
Für ihre FIT-FOR-Intervention in der Empfangshalle der Secession entwickelte Klumb Fortuna für einen Abend einen Point of Sale mit einer limitierenden Auflage eines Club-Merchandise-Sortiments. Die Verkaufsinszenierung wurde als Komplex aus Recherche, Transformation und Präsentation genutzt, bei welcher der Besucher zur Kassa gebeten wird. Der Status Quo der Gegenwart fordert eine Begleichung sowie die daran angepasste Verhaltenseinstellung: DON'T HESITATE TO ASK FOR HELP. Über eine allgemeine Hilflosigkeit konnte jedoch auch das strahlende Lächeln oder die reinweißen Outfits der fünf Verkäuferinnen nicht hinweg täuschen.
Auf den ersten Blick wird eine funktionierende und wirtschaftlich ausgerichtete Verkaufseinheit für sehnsüchtige BenutzerInnen suggeriert. Der Stand integriert sich artistisch in die schon vorhandene Produktplatzierung im Foyer der Institution. In einer Zeit, die einerseits von sozialer Entfremdung und andererseits durch kontrolliertes Konsumverhalten geprägt ist, versteht Club Fortuna die Operation als sorgsamen Eingriff. Die fünf Clubmitglieder handeln als motivierte Verkäuferinnen von Fitness und Life-Style-Produkten zur Selbstoptimierung des individuellen Körpers. Die gesamte Produkt- palette wird geschmückt vom CLUB FORTUNA FIT FOR SECESSION Emblem, sowie nervös anregenden Slogans wie beispielsweise "GO HARD OR GO HOSPITAL" oder "TODAY IT HURTS, TOMORROW TUMOR". Unter der Prämisse "CHEAT ON YOUR LIVER NOT ON YOUR WORKOUT" wird kontinuierlich verkaufsbegleitend und unentgeltlich Alkohol ausgeschenkt.
Der Verkaufstresen als Kommunikationsfläche, die zur Interaktion auffordert und institutions- und gesellschaftskritisch kommentiert. Ja. Der Club versucht die ästhetische Distanz zu überbrücken und wendet dafür eine Annäherungsstrategie an, die auch am Abort berührt. Die Diskussion zur Harmonisierung von Kunst und Kommerz, Original und Kopie, Macht und Widerstand wird in den Raum geworfen und dabei Sexualität als destruktives Machtmittel oder Suizid als allerhöchstes Engagement interpretierbar gemacht. Der Verweis auf die omnipräsente Instrumentalisierung der individuellen Selbstverwirklichung injiziert Unbehagen. Die Teilhabe an der Welt scheint nicht schmerzfrei gleitend möglich.
Psychojargon oder Gustav Klimt, Euphorie oder Opfer – der Club spielt mit unterschiedlichen Wirklichkeitsverschiebungen und Kontextualisierungen gegen eine restlose Verwertung von körperlichen und psychischen Ressourcen. Inmitten eines aufgeklärten und kritischen Bewusstseins fusionieren die Grenzen von Intelligenz und Verblödung, doch zwischen Zeit und Kunst ist ein Spalt. Ein weiteres Mal transformiert sich der Club zum Endoskop und analysiert den Patienten nach der Maxime: HARDER – BETTER – FASTER – FORTUNA.
- - - - - - - - - -
The FIT-FOR-Intervention took place at the entrance hall of the Secession, Club Fortuna, and was a one-night-only opportunity for people to purchase a range of limited edition club merchandise. The production was a mix of research, transformation and presentation, where members of the audience were required to pay. This was in addition to an expected form of behavior, namely, DON'T HESITATE TO ASK FOR HELP. Not even the brightest smile of the five salesgirls, nor the purest white of their outfits could obscure the fact of general helplessness.
At first glance, the counter appeared as a functionally and commercially targeted selling unit to interested users, integrating into the existing product placement at the foyer of the institution. In our current time, which is polarized between social alienation and unbridled consumerism, Club Fortuna understands this operation as a carefully proceeded surgical intervention. The five members act as motivated vendors for fitness and lifestyle products for the self-optimization of the body. All of the products are adorned with the emblem 'CLUB FORTUNA - FIT FOR SECESSION', in addition to pro- vocative slogans such as 'GO HARD OR GO HOSPITAL', or 'TODAY IT HURTS, TOMORROW TUMOR'. True to another slogan 'CHEAT ON YOUR LIVER NOT ON YOUR WORKOUT', free alcohol is served throughout the event.
The counter acts as a communication platform, inviting interaction and critical comments about institutions and society. The Club tries to bypass the aesthetic distance and applies therefore a strategy of rapprochement, that touches as well at the toilet/lavatory. Questions regarding the harmonization of art and commerce, originals versus copies, as well as power and resistance were posed, and though interpretable, has made sexuality as a destructive instrument of power or suicide as highest engagement.The reference to the ever present execution of the individual self-fullfilment injects unease. The world is not free of pain and gliding to be possible.
Psychological jargon, or Gustav Klimt, euphoria or victim - the club plays with different notions of reality, and contextualizes using both physical and mental resources. Between enlightened and critical awareness merges the borders between intelligence and dumbing down, but between time and art there exists a gap. Once again, the club transform itself into an endoscope and analyses the patient on the maxim: HARDER - BETTER - FASTER - FORTUNA.
Fotos Maximilian Pramatarov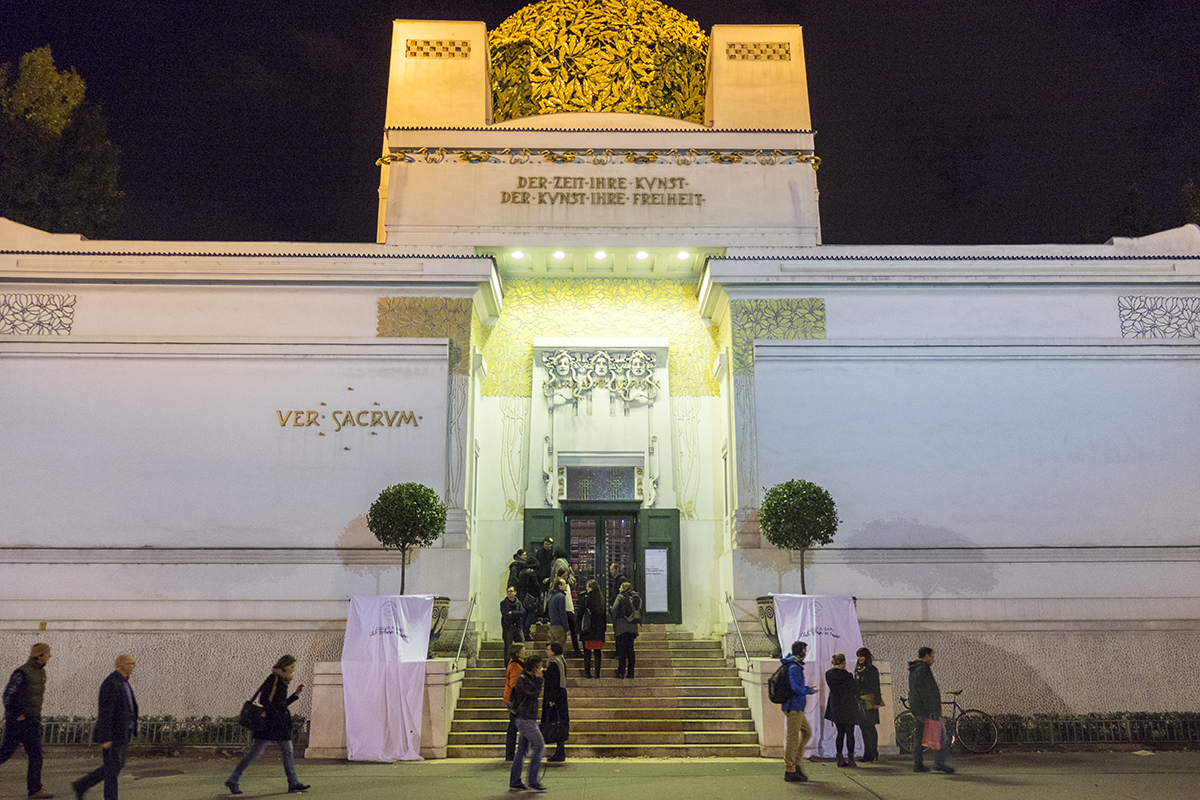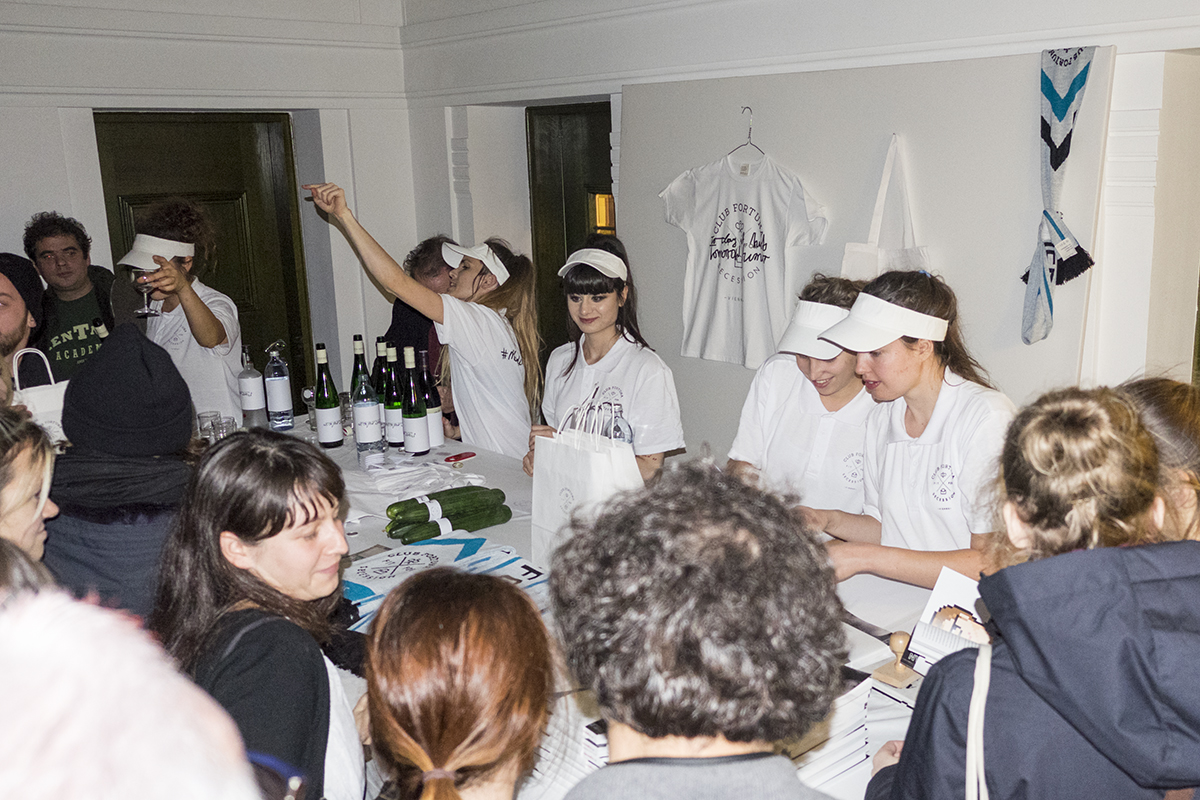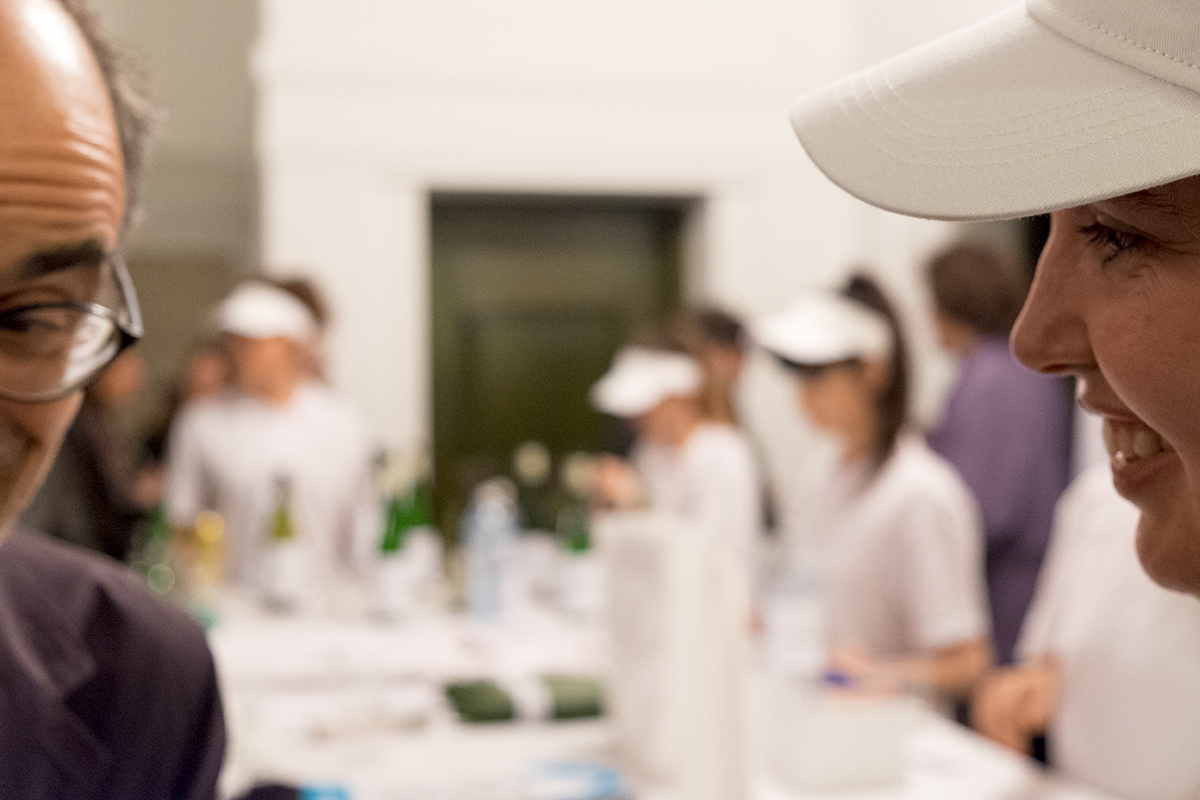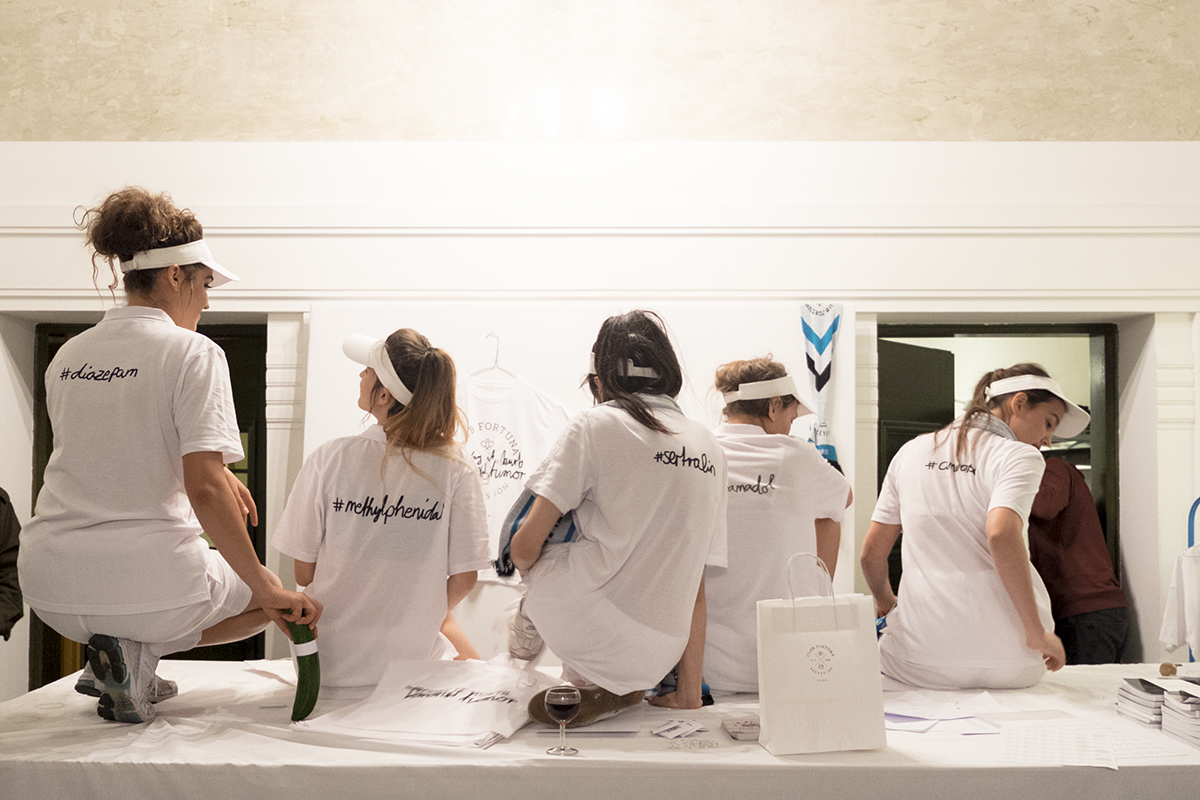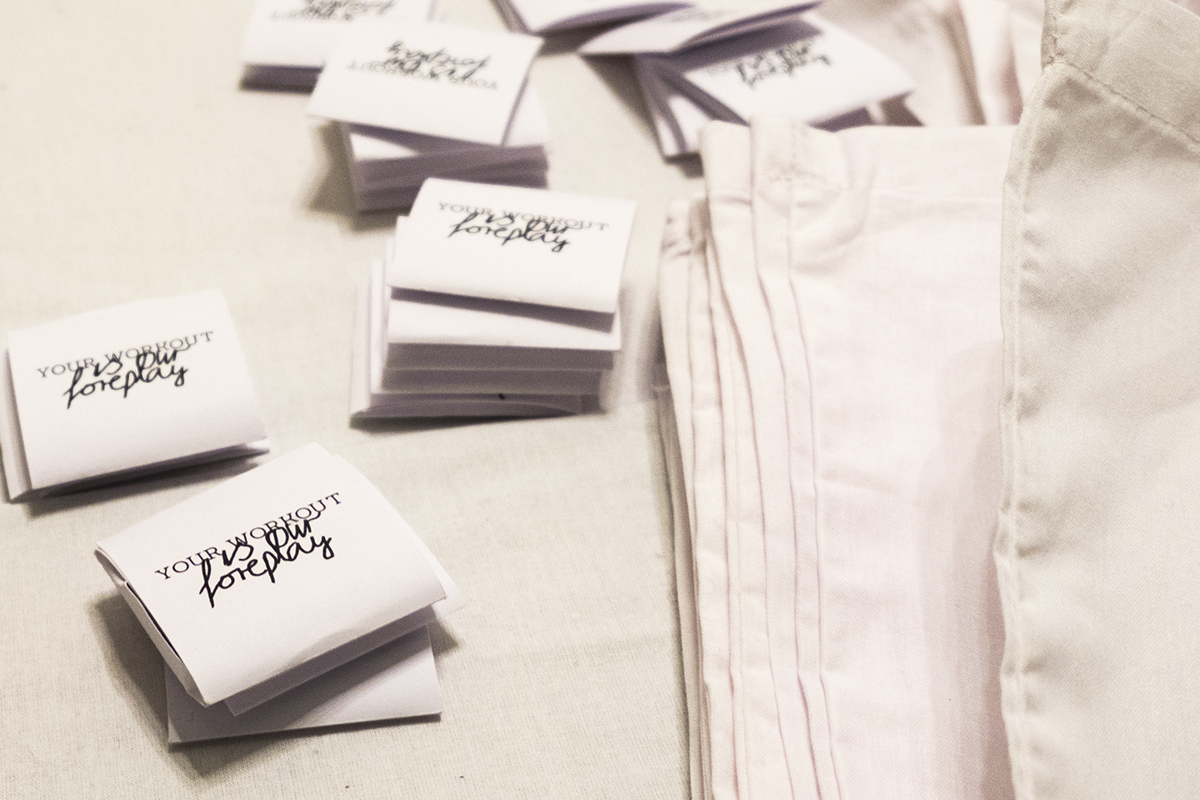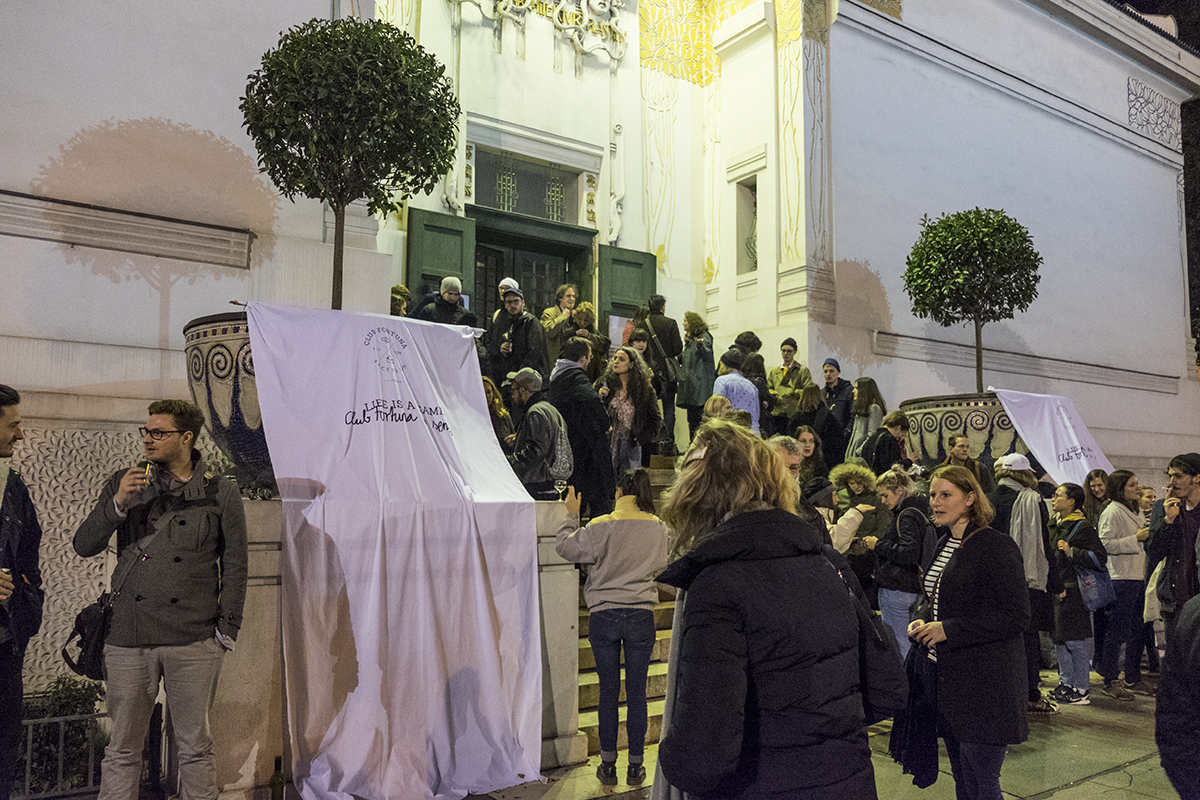 Präferenzen
50 x 70 cm, silkscreen print, 2015
Just don't do it
220 x 200 cm, acrylics on molino, 2015